MISSION STATEMENT: To provide our clients with the best skydiving experience in Asia in a fun, exciting & professional atmosphere, supported by a team of sincere & dedicated staff.
So how do we achieve this? Our sole focus is you, the customer. It's because of you, we get to run such a fun and exciting business. Before I started skydiving, I worked in customer service and learnt the real meaning of it and its importance.
When I entered the Skydiving industry over 20 years ago, I noticed there was a lack of focus on service. Our business differentiates itself by being innovative and highly focused in this area. Our aim has always been to take safety and customer service in South-East Asia to the next level.
We operate a Cessna Caravan, a modern turbine aircraft. Our aircraft is the above the industry standard and one of the most modern turbine aircraft used by skydivers. Its reliability is superior to older piston engine aircrafts.
We can also guarantee you will get the height you pay for as our aircraft is powerful enough to go where others can't. You can also jump with your friends or family as we can take up to 4 clients at once!
In our mission to offer you the best skydive experience we paved the way to offer the first tandem skydiving experience in South-East Asia.
This opportunity has been made possible by working collectively with the community, local businesses and regulators, which we are very proud of! We love Malaysia and take great pride in supporting the local tourism industry.
We also proudly aim to be the best place to work in South-East Asia which means we attract great staff. All of our team are hand-picked by me and possess the abilities, personality and values required to give you great service. And don't take my word for it, just read our reviews! Many focus on the quality of our crew.
In summary, we love what we do! We are dedicated to our cause but this will only be achieved by a process of continuous improvement so please let us know if you have any suggestions. I hope you have a fantastic experience with Skydive Langkawi!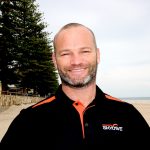 Regards,
Mark Gazley
Director, Owner and Chief Instructor
Parent company, Coastal Skydive has run in South Australia for 20 years. 12 years ago, current Manager and owner Mark Gazley took the reins and moved the business to Goolwa.
In 10 years, Coastal Skydive went from the smallest to the largest operation in Adelaide. Mark's vision was to build the business by reputation and referral. A strong relentless focus on providing excellent service has paid off.
Coastal Skydive now has 3 locations in Adelaide and thus can service people from all areas.
In 2013 the business opened Adelaide's first city beach jump at Semaphore which has proved very popular. 'Adelaidians' love the beach and the close proximity to the city is attractive.
In 2013 the company purchased Adelaide's first turbine engine jump aircraft driven by South Australian customers needing a more modern aircraft that made people feel comfortable and safe.
In recognition of their excellence in 2014 and 2015 the company received a Silver Tourism Award.
2016 saw the company open a new site at Aldinga beach. Shortly after this, the company took another exciting step and opened a skydive centre on the tropical Island of Langkawi in Malaysia.